9th December 2022 (online): "Connecting the Outcome of COP 27 with German-Japanese Cooperation on the Energy Transition"
8:30 – 10:00 CET / 16:30 -18:00 JST

While Russia's war against Ukraine is still going on, the international community convened in Sharm el-Sheikh for the COP 27 to discuss yet another global crisis: How to ensure full implementation of the Paris Agreement, namely reaching the 1.5°C target? Especially industrialized countries such as Germany and Japan need to implement measures to reduce their Greenhouse Gas emissions significantly, while also taking over responsibility for the damage they have already caused to the global climate decades ago and hereby particularly damaging the global South.
From a German-Japanese perspective, the outreach event on December 9 brought light on the outcomes of the COP 27 with a focus on the question of whether substantial contributions for accelerated action that would also aim at a just transition worldwide have been agreed on. It further discussed how cooperation between Germany and Japan can foster/stimulate accelerated international efforts on climate change mitigation.
Presentations
"COP27 and beyond", Takahiko Tagami, The Institute of Energy Economics, Japan
"Insights from COP27", Wolfgang Obergassel, Wuppertal Institute
Recording of the Outreach: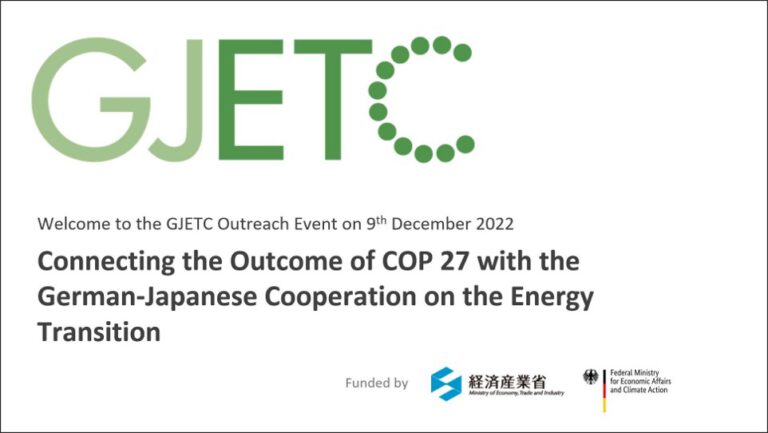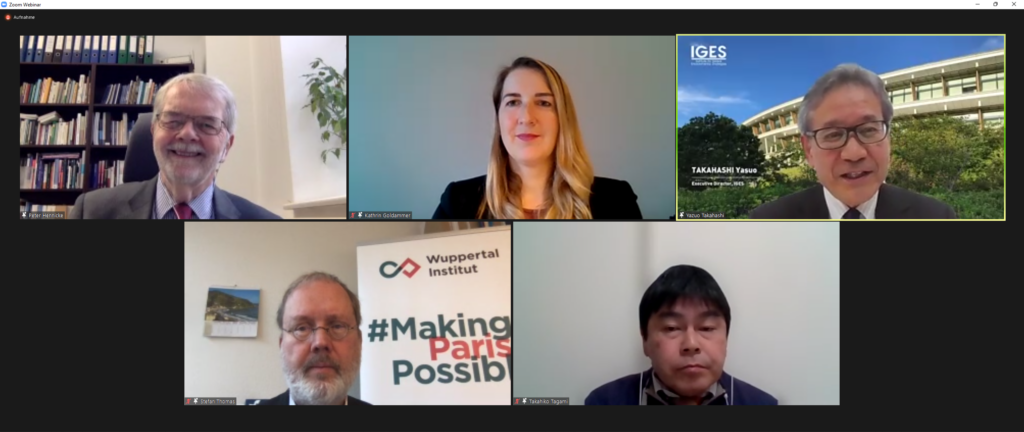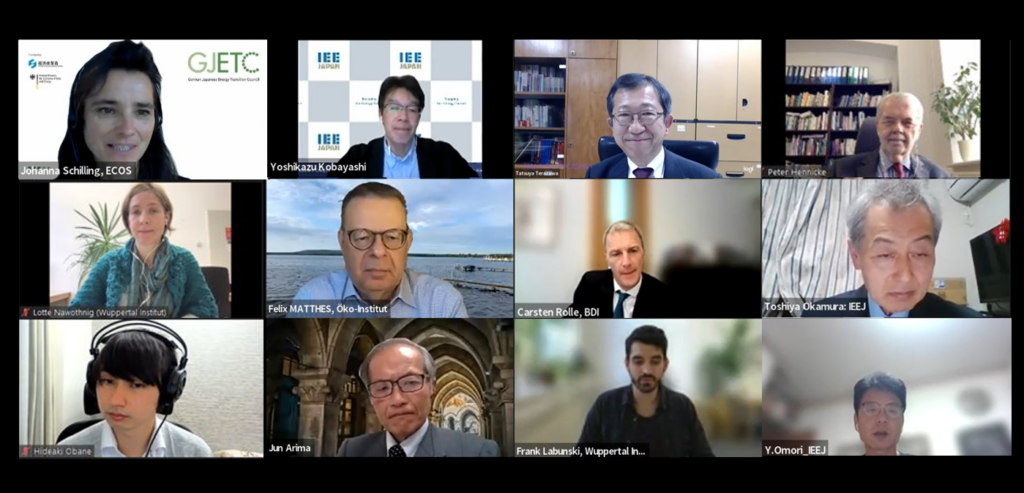 Recording of the Outreach: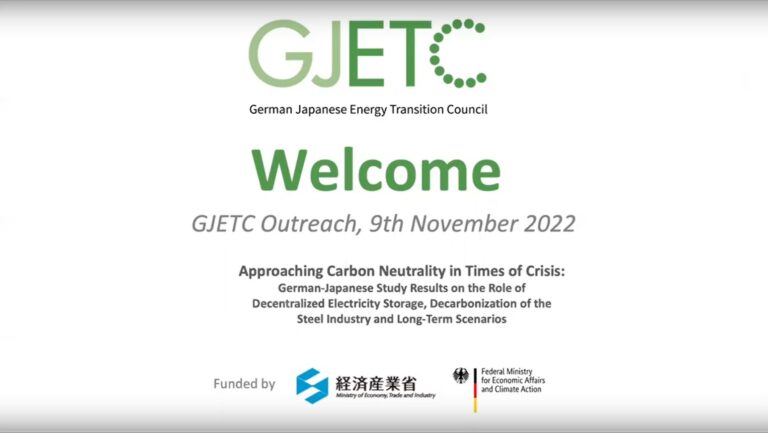 25th November 2021: "Heading for carbon neutrality: Key strategies for Germany and Japan"
The challenges posed by the increasing global climate crisis call for more substantial actions to reach climate neutrality. An acceleration of energy transition and socio-ecological transformation are indispensable. At COP 26 in Glasgow, both Germany and Japan presented their specific ambitious targets and roadmaps. Against this backdrop, the German-Japanese Energy Transition Council presented key approaches found in recent long-term scenario studies on how to reach carbon neutrality until 2045 (Germany) or 2050 (Japan) in the online Outreach Event "Heading for carbon neutrality: Key strategies for Germany and Japan" on Thursday, 25th November 2021, 8:30-10:00h CET / 16:30-18:00h JST. In the last Council Meeting in September 2021, the GJETC members agreed on the processing of a new comparative study on long-term scenarios assessing the different strategies and approaches of reaching carbon neutrality by 2045/50; it will be finalized until February 2022. This Outreach Event presented first results and discussed key strategies of Germany and Japan covered by most recent long-term scenarios, demonstrating the variety of strategic approaches in achieving climate neutrality and discussing possible conclusions in the light of the outcomes of COP26. 
Recording of the Outreach: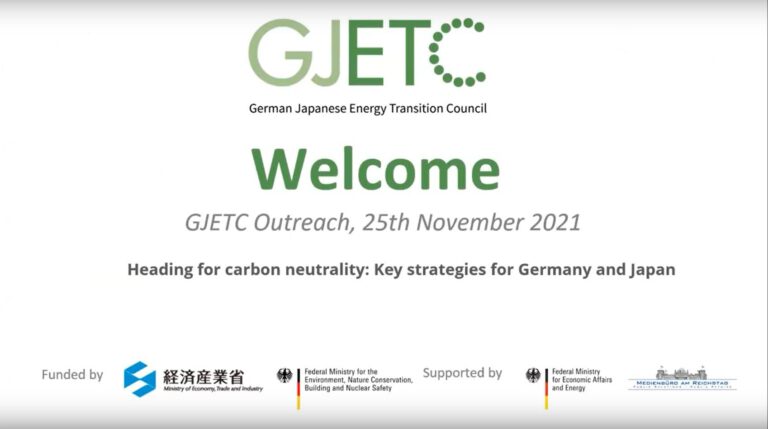 2nd July 2021: "Steps towards Carbon Neutrality: German-Japanese study results on digitalization of grids, CCUS, hydrogen, and energy and climate policy in the post COVID-19 era"
The COVID-19 pandemic reminded the world community that global threats must be dealt with on a global level, rendering international cooperation indispensable. This holds especially true for the ongoing climate crisis threatening the lives of future generations. To meet the targets proclaimed in the Paris Agreement, joint efforts fostering energy transitions and other climate policies worldwide are needed.
Considering the commitment of both Japan and Germany to reach carbon neutrality until 2050, urgent measures to realize intermediate ambitious goals up to 2030 and 2040 are necessary. The recovery programs from Covid-19 can bring a decisive push towards the CO2 reduction targets. Against this background, the German-Japanese dialogue on energy transition plays a particular significant role. At the outreach event three recent studies that deal with key questions for the energy transition in both countries were presented: How can Artificial Intelligence (AI) and big data be utilized to optimize power grid operation? To what extend can Carbon Capture, Use and Storage (CCUS) and Hydrogen contribute to the decarbonization of energy-intensive industries? And which impact of COVID-19 can be observed on energy consumption, social behaviour and climate policy? From these studies, the GJETC has also derived recommendations for policymakers in Germany and Japan.
Also new study topics for the 3rd phase of the GJETC will were presented. Amongst others, the Council will gave an update on Germany's / Japan's climate strategy and its implications and discussed possible pathways and solutions for carbon neutrality in both countries.